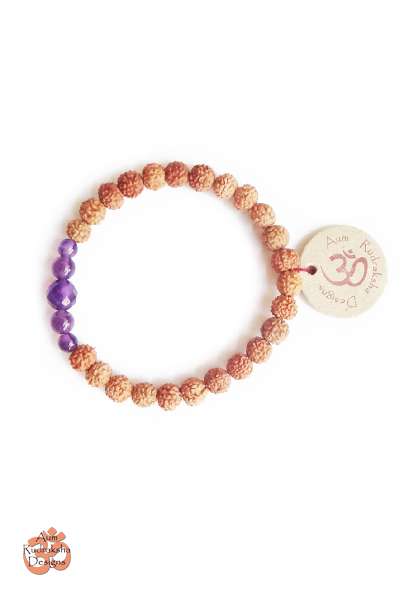 Aum Rudraksha Amethyst Bracelet
Rudraksha and Amethyst stones bracelet with 7mm beads.
Medium bracelet on elastic. Amethyst is the spiritual stone enhancing peace and wisdom. Rudraksha is a blood purifying seed which is known as the tears of Shiva and is the oldest and most sacred kind of prayer bead. The Rudraksha beads used are grown on sustainable plantations in South East Asia and are authentic. The vibration (power) of the beads is checked, as many have a higher vibration than others and only the best are used. The Rudraksha bead is five mukhi representing lord Shiva. Rudraksha beads are sacred and need to be treated with respect and care. Wash them once in a while to remove dirt and dust. Oil them with coconut or sandalwood oil to preserve them. They will turn darker with your own body oil when wearing them.