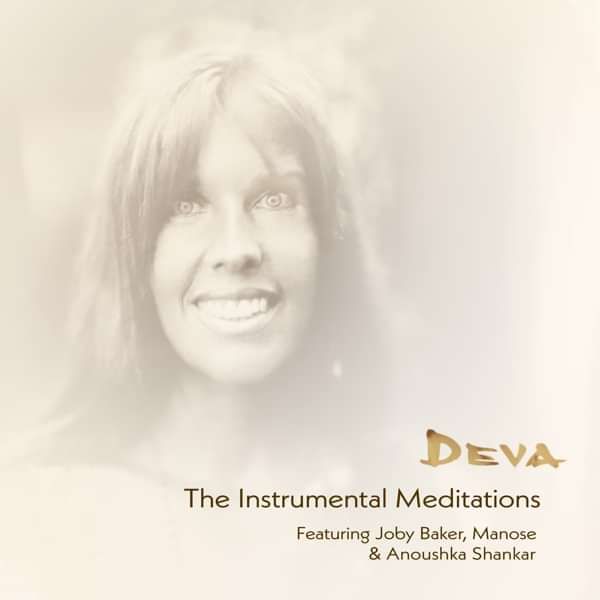 Deva - The Instrumental Meditations - Digital
It invites the listener to explore the music from a totally fresh perspective
01 Seven Chakra Gayatri Mantra (Instrumental)
02 Sarva Mangala (Instrumental)
03 Prabhujee (feat. Anoushka Shankar) (Instrumental)
04 Buddham Sharanam (feat. Manose) (Instrumental)
05 Mahamantra (Instrumental)
06 Vakratunda Mahakaya (Instrumental)
07 Seven Chakra Gayatri Mantra (Prabhu Mix) (Instrumental)
When the world-renowned mantra singer Deva Premal was nominated for a 2020 Grammy, she joined the ranks of outstanding previous nominees for Best New Age album, including India Arie, Enya, Brian Eno, Pat Metheny and Mike Oldfield. As well as being a stunning vocalisation of Sanskrit mantras, *DEVA *also tapped deep into the well of ambient instrumental music. Now, encouraged by the enthusiastic response, Prabhu Music has taken the bold and inspiring step of releasing an instrumental version of this unique album.
DEVA – The Instrumental Meditations invites the listener to explore the music from a totally fresh perspective. An aid to meditation and relaxation, The Instrumental Meditations - minus all vocals - is a work of languid calm and beauty.
The album features Nepalese bansuri virtuoso Manose and Canadian multi- instrumentalist Joby Baker - both long-term collaborators of Deva Premal & Miten in studio and on stage – together with guest contributions from sitar maestro Anoushka Shankar.
While the instruments played are primarily acoustic – piano, bansuri, upright bass, sitar and percussion – Joby Baker's production incorporates a sophisticated sheen of modern, electronica recording techniques. The result is an album which sounds fresh, authentic and timeless.
On Prabhujee, Anoushka Shankar's interpretation of her father's composition (from his celebrated Chants of India album produced by George Harrison) remains a highlight. A deeply personal performance by Anoushka lifts the piece above the simply awesome into the realm of love, longing and devotion.
The ethereal sound of Manose's bansuri floats and flutters like birdsong throughout the album, colouring such pieces as Mahamantra and the soft reggae shuffle of Sarva Mangala. Joby Baker's supple percussion, mixed with gentle, haunting passages of vocalese elevates Vakratunda Mahakaya towards ecstasy.
The album is bookended by two versions of Deva's touchstone mantra, Seven Chakra Gayatri Mantra. On the opening version, Anoushka's sinuous sitar traces the meditative flow of the melody and on the final reprise, Joby's warm ambient piano tones bring the album to a restful close, leaving the listener in a state of relaxed, peaceful fulfilment. This is an album that, left on repeat, will fill your room with a delicate, aural perfume.