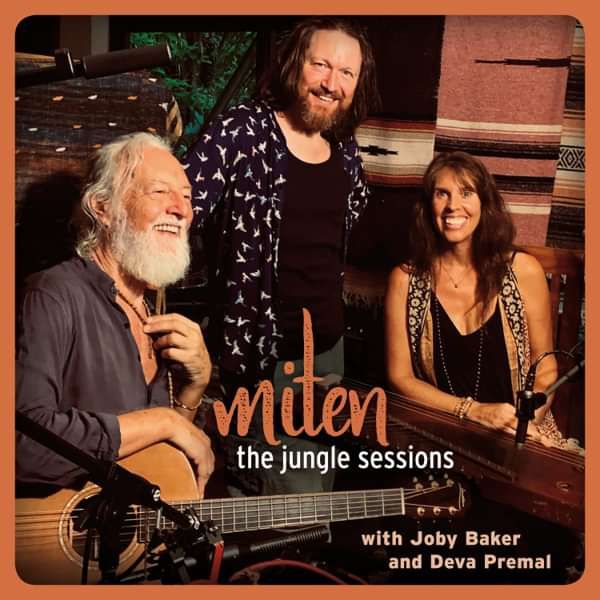 Miten - The Jungle Sessions - CD
with Joby Baker and Deva Premal
The Jungle Sessions is a collection of songs recorded in lockdown by spiritual messenger, musician, singer and composer, Miten. It is the third in a trilogy of albums which began in 2016 with Temple at Midnight, which hit #1 on the Amazon and iTunes world music and new age charts. Miten followed this with his acclaimed Devotee album, released in 2019, featuring life partner, Grammy nominee Deva Premal.
The Jungle Sessions is a record of Miten's extended stay with his musical and life partner Deva Premal in a jungle hideaway in Costa Rica. Recorded at the Blue Spirit Resort, where Miten and Deva were joined by their longstanding production collaborator Joby Baker, songs such as the desperately humorous proclamation of I Need A Beach and the swampy groove of Om Shanti Om capture the spirit of a place where the troubles of the world are placed on the back-burner by the balm of music, mantra, meditation and pristine nature.
A wandering spirit, Miten has been on the road with Deva since the 1990s, responding to invitations from Moscow to Miami. The Jungle Sessions is the latest staging post on this long, hallowed journey and resonates with a profound sense of time and place.
Track listing:
Rain of Blessings/Ra Ma Da Sa
OM Shanti OM
I Need A Beach
Never Give Up On Love
Still Awake
Just A Little More
Rain of Blessings/Ra Ma Da Sa (Live)