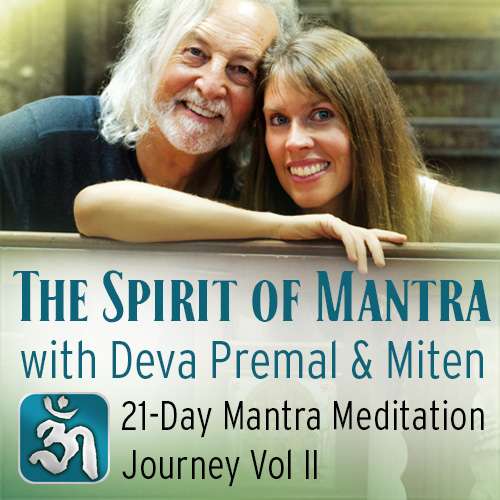 The Spirit of Mantra - 21 Day Mantra MMJ Vol II - Digital
Deva & Miten explore 21 powerful mantras, explaining their meanings and offering guided meditations into the chanting.
The Spirit of Mantra - Daily Texts.pdf
Day 5 - Strength Through Devotion
Day 7 - Beyond Identification
Day 9 - The Light-Bringer
Day 10 - Divine Consiousness
Day 13 - The Lover & The Beloved
Day 14 - Long Life & Healing
Day 16 - Blessing the Children
Day 17 - Blessing the Animals
The Spirit of Mantra, the 2nd 21-Day Mantra Meditation Journey with Deva Premal & Miten, brought 87,000 people from 200 countries together in an extraordinary worldwide wave of chant and meditation. Now this transformative, healing program is available for purchase as mp3 downloads.
These ancient sound formulas affect us on many levels - body, mind and spirit - opening the door to a world beyond thought, where we experience deep inner peace and a true sense of well-being.