GAYATRI GATHERING: Florianopolis, Brazil
Deva Premal & Miten with Manose and The Temple Band
Buy Tickets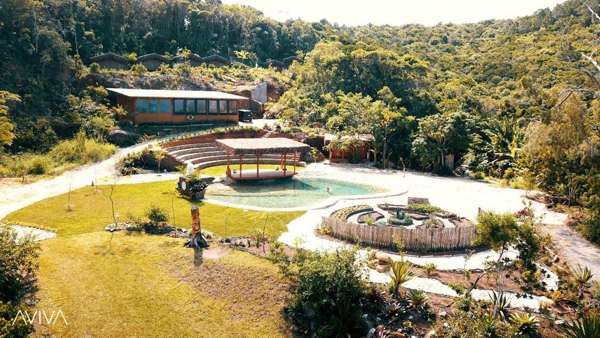 Due to the current Coronavirus situation, all of Deva Premal & Miten's events in May 2020 have been postponed and are in the process of being rescheduled. Please visit the local ticketing webpage, or contact the local promoter, for the latest information. We look forward to seeing you all soon.
GAYATRI GATHERING Deva Premal & Miten with Manose and the Temple Band
April 30 - May 2, 2021
Aviva Retreat Center
Praia Mole Beach, Florianópolis, Brazil
Booking Open
Format: The Gayatri Gathering will be held in an intimate retreat-style format limited to 72 participants.

Cost: from R$3.333 Brazilian Reais ($833.25 USD), which includes all weekend activities, participation in Sunday evening's general admission concert for 300 people, and vegan/vegetarian meals as specified in the schedule below.
The Gayatri Mantra is a prayer to the sun, and in this spirit we have created the Gayatri Gathering – a call to join in sacred circle in celebration of light – shining within us and throughout our ecstatic chant community.
During the Gayatri Gathering we immerse ourselves in chant sessions filled with mantra, sacred song and a deep celebration of the heart. In this healing environment, we bathe in a joyful, inspirational, and loving rejuvenation of the spirit.
This is the key to the Gayatri: it nourishes the soul, giving us the strength and inspiration to go forward into our lives with a deeper sense of awareness, more compassion, more humor, more love.
Our Gayatri sun will shine brightly and support us as we move through life's challenges. We all know how easy it is to sometimes lose touch with our light of love, so the Gayatri Gathering is here for us all, to replenish, to re-charge, and to re-new our sacred connection with the Great Spirit – our true Buddha Nature.
"If ever there was a time to come together in sacred union, that time is now. Bring your voices, your open hearts, your laughter, your tears – All is Welcome Here!" – Deva & Miten
PROGRAM
Friday, April 30:
Check-in from 1:00 PM
12:00 PM – 3:30 PM: Registration
3:30 PM – 5:00 PM: Retreat Opening
5:00 PM – 7:00 PM: Dinner Break
7:00 PM – 9:00 PM: Evening Gathering
Saturday, May 1:
10:00 AM – 12:00 PM: Morning Gathering
12:00 PM – 3:00 PM: Lunch Break
3:00 PM – 5:00 PM: Afternoon Gathering
5:00 PM – 7:00 PM: Dinner Break
7:00 PM – 9:00 PM: Evening Gathering
Sunday, May 2:
10:00 AM – 12:30 PM: Morning Gathering
12:30 PM – 2:30 PM: Retreat Closing Lunch
6:00 PM – 8:00 PM: Evening Open Concert (300 People)
VENUE
Aviva Retreat Center
Rod. Jornalista Manoel de Menezes, 1872
Praia Mole, Florianópolis, Santa Catarina
CEP: 88061-700, Brazil
Email: gayatrifloripa@gmail.com
WhatsApp: +55 (48) 9.9626-9029

ACCOMMODATIONS
This group is not residential so you will need to find and book your own accommodation. Aviva Retreat Center, the venue for the event, offers a limited number of accommodations in beautiful natural surroundings through the booking link below.
For additional assistance with local accommodations, you can speak with Mari at Floripa Vacation Homes via WhatsApp (+55 (48) 9.9987-0382) or email (info@floripavacationhomes.com). We recommend you book your accommodation as early as possible.
If you have further questions not answered here or on the booking page that follows, please contact gayatrifloripa@gmail.com.
For information about this event in Portuguese, click here.
Line Up