Under the Olive Tree - Virtual Corfu Gayatri Gatherings
Deva Premal & Miten with Manose
Buy Tickets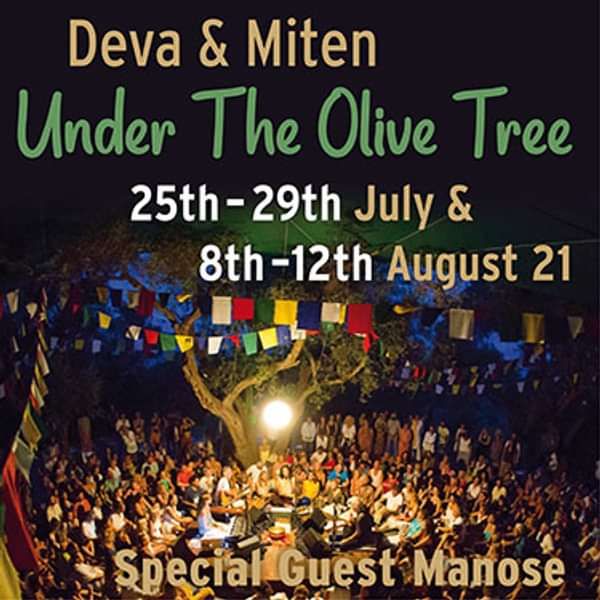 Namaste friends - For over 20 years Miten and I have spent our summers on the magical island of Corfu. It was in the tiny seaside village of Arillas that our events, retreats and gatherings grew from 28 participants in 1998 to many hundreds in 2019.
Arillas is the birthplace of our beloved Gayatri Festival, which we have held annually for 6 years, in the Gayatri Mandir, our gathering place under the open sky, held in the shade of ancient olive trees.
As this summer's gatherings have been postponed - thanks to the internet - we will be joining the Gayatri Mandir virtually, and sharing our first "Under The Olive Tree - Virtual Corfu Gayatri Gatherings" this July and August.
Every day, for 5 days at 9.30 pm Corfu time, we will broadcast a daily Satsang of togetherness and connection, through the magic of mantra, song, laughter, love and light.
The Olive Tree - the biblical symbol of peace - will shelter and nurture us as we gather from all over the world, for 5 days/nights of devotion.
We look forward to singing with you Under the Olive Tree.
With love, Deva & Miten
July Gathering - 25th - 29th
August Gathering - 8th - 12th
60-minute Daily Live Sessions (11.30 am PDT)
Everyday for 5 days at:
11.30 am San Francisco/Vancouver
12.30 pm Costa Rica/Calgary
1.30 pm Mexico City
2.30 pm Montreal/New York/Santiago de Chile
3.30 pm Rio de Janeiro/Buenos Aires
7.30 pm London/Dublin/Lisbon
8.30 pm Munich/Paris/Madrid/Cape Town
9.30 pm Corfu/Moscow
00.00 am New Delhi/Mumbai (+1 day)
4.30 am Brisbane/Sydney (+1 day)
*Recordings available for 1 month after the gathering
Beloved Corfu Sangha - All of you who were booked into our 2021 Corfu events are invited to join these online sessions free of charge. On 19th July, we will send out a coupon code for you to use so that you can download your free ticket. Please watch out for that email and check your junk/spam folders.
Gayatri Sangha Online Community members receive a 30% discount on the full ticket price. For more information on how to join, and the Free Trial available for all new subscriptions before 17th July 2021, here.
Line Up
Deva Premal & Miten with Manose