Montreal, Canada Concert
Deva Premal & Miten with Manose and The Temple Band
Buy Tickets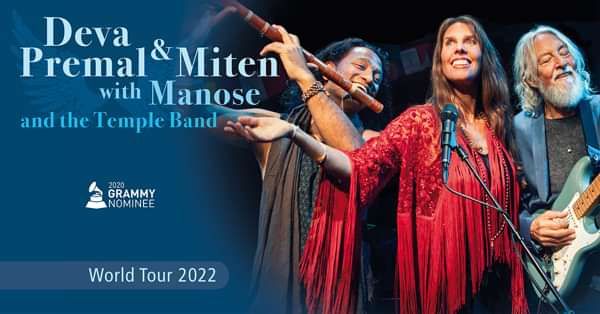 Due to the COVID-19 coronavirus pandemic, the On the Wings of Mantra concert — scheduled on September 18, 2021 at Théâtre Maisonneuve — has been postponed until May 13, 2022, 7:30 pm, at Maison Symphonique. Ticket holders must log in to their Place des Arts account to retrieve their new tickets.
DEVA PREMAL & MITEN WITH MANOSE AND BAND
Join world-renowned devotional mantra stars Deva Premal & Miten as they celebrate 30 years of love, mantra and inspirational music. These magical gatherings have inspired and transformed audiences across the planet. To celebrate their 30th anniversary, Deva and Miten will feature a collection of old favourites from their 21-album catalogue, along with standout pieces from their 2019 Grammy nominated album DEVA, which includes the Seven Chakra Gayatri Mantra, one of their most famous signature chants.
Deva Premal & Miten are accompanied by their long-time collaborator, Nepalese bansuri maestro, Manose along with their exquisite Temple Band.
Please only buy tickets from the official ticket outlets linked from this website. We don't have any control over unauthorized ticket outlets and cannot guarantee ticket pricing or authenticity so please don't risk it.
Line Up