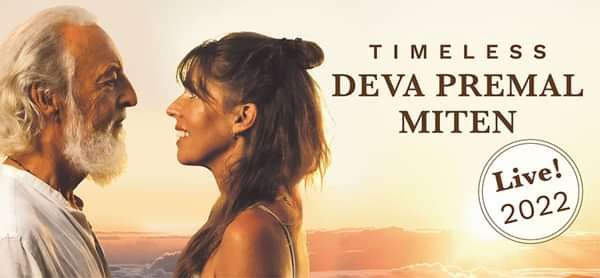 DEVA PREMAL & MITEN
LIVE IN EUROPE – SEPTEMBER & OCTOBER 2022
the TIMELESS tour
Come and Sing.
They're back! After two years of jungle life on the beaches of Costa Rica, Deva and Miten are returning to live concerts.
Accompanied by their great Temple Band including long-time collaborator Joby Baker, Deva and Miten will be sharing new music from their jungle home, along with the Gayatri Mantra and many other timeless classics from their 30-year repertoire.
"Come and chant! It is essential that we stay connected in these dark times," says Miten. "It is our birthright to come together and to sing our prayers. Now we can rekindle the fire that we have tended for these past two years."
Deva: "Come and sing. There is nothing that compares to the sound of human voices raised in ecstasy. It is time to heal our troubled hearts. For Miten and I, this is our lifeblood and it was this longing for the human touch - the human connection - that has brought us back on the road. It is a regathering of the tribes - A reunion of kindred spirits!"
The Rain of blessings will fall - kissing the earth and this holy ground, where we stand in peace, to chant the holy Name.
Please only buy tickets from the official ticket outlets linked to this website. We don't have any control over unauthorized ticket outlets and cannot guarantee ticket pricing or authenticity so please don't risk it.
Line Up