WISDOM & WELLBEING WEEK
Bessel Van Der Kolk, Richard C. Schwartz, Deva Premal & Miten, Licia Sky, Patti Elledge, Luis Mojica, Jack Saul, Leslie Salmon & Jeff W Jones, Annette Knopp, Stephan Rechtschaffen
Buy Tickets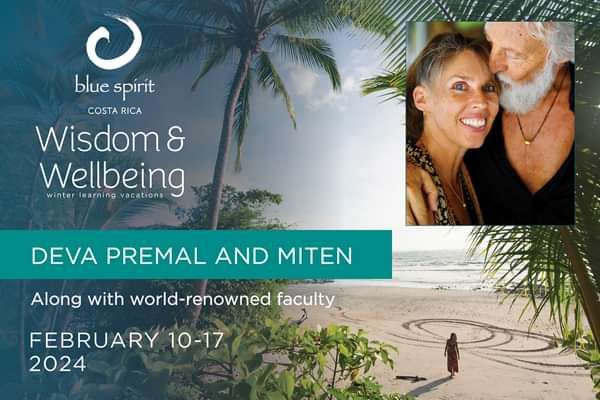 Wisdom & Wellbeing Week 5 Multi-Faculty at Blue Spirit
Join us for a 7-day Winter Learning Retreat
Enjoy a unique blend of in-depth workshops with us paired with a restorative wellness vacation in one of the most beautiful settings in the world in Costa Rica.
Bessel Van Der Kolk, Richard C. Schwartz, Deva Premal & Miten, Licia Sky, Patti Elledge, Luis Mojica, Jack Saul, Leslie Salmon & Jeff W Jones, Annette Knopp, Stephan Rechtschaffen
Trauma, Healing, and our Unbroken Essence
During week 5, sample from a wide variety of programs with acclaimed teachers and choose from the following workshops during the week. Enjoy a workshop in the morning, try another in the afternoon, or stick with the same workshop all week. You can also abandon your schedule and head to the beach.
The program includes: · All classes and program with world renowned teachers for this week · Gourmet vegetarian and vegan meals from our Buffet-plus fish being served three times during the week. · Blue Spirit amenities such as the Longevity Center, salt water pool and direct beach access.
Booking: https://bluespiritcostarica.com/retreat/wisdom-wellbeing-week-5-multi-faculty/
Full Program: https://bluespiritcostarica.com/wisdom-and-wellbeing-weeks/
Line Up
Bessel Van Der Kolk, Richard C. Schwartz, Deva Premal & Miten, Licia Sky, Patti Elledge, Luis Mojica, Jack Saul, Leslie Salmon & Jeff W Jones, Annette Knopp, Stephan Rechtschaffen