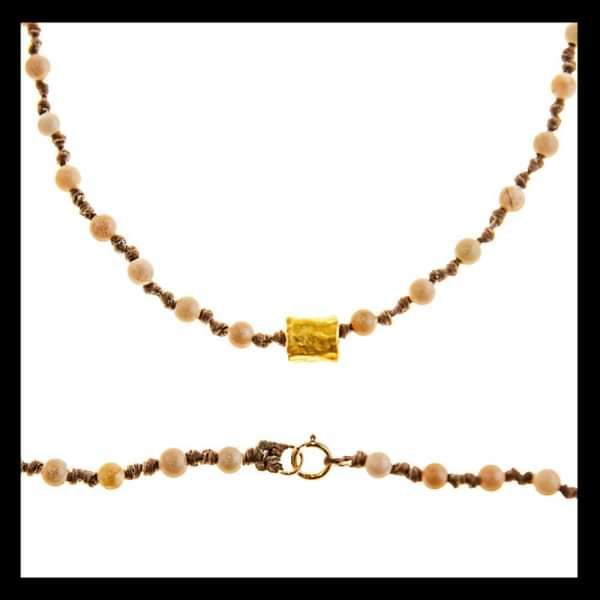 Jerusalem Stone - Unity Choker
Please note, Mantra Bead is not included.
The unity choker is made from 54 Jerusalem Stone beads. It combines different symbols and frequencies which serve as a reminder of unity and a support for the embodiment of unity.
The Jerusalem Stone beads are 4mm in diameter, the number 4 symbolising community. The string is knotted twice between each bead. You can order your unity choker with or without an organic gold intention bead, that can be threaded onto the choker.
The choker is also available in 4 lengths. Each length contains 54 beads, with the distance between the beads changing according to length.
What is Jerusalem Stone? Jerusalem Stone, which holds the frequency of a grounded heart. The grounded heart frequency is a frequency of presence with a clear connection to the essence of our spirit, and allows a full expression of this balance in life interactions. Jerusalem Stone is known as the 'corner stone' of Solomon's temple. The name Solomon is a combination of two Hebrew words describing wholeness and peace. This temple was a house of prayer for all, and King Solomon was the king that managed to keep peace and wholeness in his time. The meaning of the name Jerusalem is the foundation of wholeness, oneness and peace. The Jerusalem Stone that is found in this area has the variations of all the skin colours that humanity is wearing.
International Orders - Delivery Information The default International delivery service is Australia Post Pack and Track (2-4 weeks). This is a slower service and costs $10 per shipment. This service is available to 26 International destinations as per Australia Post Guidelines. Delivery should be 1 - 4 weeks depending on your location. A unique tracking code will be sent once we have shipped your purchase. Please note, International orders for less than $50, or to destinations outside of the Pack and Track International boundaries, will be sent via Airmail. These packages should arrive within 1-4 weeks depending on your location.
If you require your item urgently, please purchase through www.MantraBead.com where we offer an EMS courier (1-2 weeks). This is the recommended shipping service which costs $25 per shipment. You will receive all relevant tracking information once we have shipped your purchase. Your item should arrive within 7-14 business days; door-to-door with tracking and signed delivery is available for most destinations.
Australian (Domestic) Orders - Delivery Information Orders within Australia are shipped via Australia Post Express Parcel and cost $10 per shipment. Packages should arrive within 3 – 5 business days after the shipping date. You will receive all relevant tracking information once we have shipped your purchase.